Pharmacy Cab is a purpose-built vaccine refrigerator (PBVR)
Suitable for hospitals, pharmacy, pharmaceutical factory and center for Disease Preventins, etc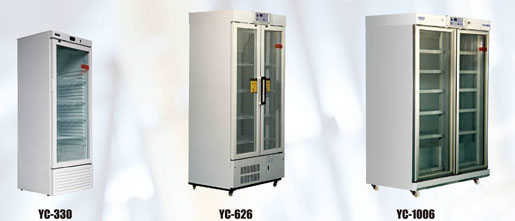 Temperature Control System:
Controlled by mico-computer, digital display of temperature: the display accuracy attains 0.1C;
Forced Air Cooling system, the inner temperature can stay at the range of 2 to 8 C;.
Alarm control of high or low temperature; the temperature points for alarm can be set according to the requirements.
Security Control System
Multi malfunction alarms; high temperature alarm, low temperature alarm, sensor malfuction alarm; open the door alarm, power off alarm (optional), under voltage alarm.
Three alarming methods; buzzer alarming, light flashing alarming and optional remote alarming;
Protection function power-on delay time between stops.
Refrigeration System
International famous brand compressor and EBM fan electromotor.
Optimized system and condensation system;
Forced air cooling system, air channel design, stable inner termperature.
Humanized Design
Safety door lock, preventing the door opened by chance.
Wide voltage design from 187V to 242V
The glass outer door of hollow transparent, LED lighting design, has a full display of contents inside freezer
Multi-layer shelves, can adjust clearance as needed.
Model

Volume, litre

Temperature degC

External dimension mm
w x d x h

Internal dimension mm wxdxh

Shelves basket

YC-60

60

2 - 8

472x500x740

360x400x539

2/-

YC-80

80

2 - 8

472x500x870

360x400x680

3/-

YC-100

100

2 - 8

472x500x1078

360x400x870

3/-

YC-180

180

2 - 8

525x525x1583

440x440x1020

3/1

YC-280

280

2 - 8

595x565x1661

504x460x1150

3/1

YC-330

330

2 - 8

661x565x1736

570x475x1125

4/1

YC-370

370

2 - 8

661x565x1881

570x475x1370

4/1

YC-626

626

2 - 8

900x710x1989

786x585x1376

8/-

YC-1006

1006

2 - 8

1200x710x2000

1100x585x1740

12/=